Kids Music and Worship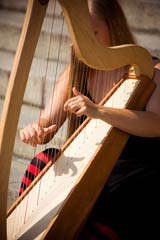 Teach and Encourage
Our little angels can be taught and encouraged to actively participate in a kids music and worship service.They need to learn how to stand against the enemy of their soul. They need to be allowed to participate fully not in passive silence. They need to know and understand what each worship action means and why it is done.
Old Testament Example
Exodus 12:26; 13:14, gives an example to include children. During the Passover Feast, the Isrealites would bring their sons and daughters with them and the kids would ask what the feast was all about. This gave the parents and grand-parents the opportunity to explain what the feast was all about and what the Lord has done and who He is.
They practise the principle of passing on from one generation to another the deeds of the Lord and carry on the faith. (Psalm 78: 1-8) Children are individually gifted people. Who are these young people God has placed in our hands, in churches, in our classroom and kid's services? They are our future leaders. We are told, "Train a child in the way he should go and he will not depart from it."
Does God Speak To Children?
Examples are recorded for us in the Bible.
One example is the boy Samuel who grew up in the temple under Eli the priest (1 Samuel 3). One night Samuel heard the voice of the Lord, telling him what He is about to do to Eli's sons who did evil because Eli failed to discipline them. It took Samuel great courage to reveal to Eli what God had said. Little Samuel grew to become Israel's mighty prophet, priest and judge and had a great deal of influence.
Another example is King David. As a boy, his job was to tend to his father's sheep while his older brothers went to war against the Philistines. He was skilled in playing the harp. He sang and made music to God.
One day his father sent him to take food to his brothers to their camp and to bring back news about them. While David was talking to his brothers at the battle lines, Goliath, known as the Philistine champion, stepped out from his lines and defied the armies of the Living God.
The Israelites were terrifed of this giant Goliath. Young David decided to fight Goliath in the name of His God and he defeated him, striking Goliath's forehead with a stone. So don't under-estimate what God will do through a kid who praises Him. (1 Samuel 17)
Be A Creative Teacher
Provide fun kids music and songs that teach spiritual lessons or reinforce a Bible truth to our young worshippers. It is a great way to help them memorise the scriptures.
Perhaps the most powerful thing that happens on Sundays is when the children sing and praise God. Jesus did say, do not prevent the little ones from coming to Him. We all know what kids are like, sincere, simple and inquisitive.
Why teach music to our kids, you may wrestle in your thoughts? Isn't just teaching the scriptures sufficient? I suggest you read the book of Revelation and meditate on it and see how heaven is filled with melodious music and the multitudes of Angels playing the harp and singing continously in the presence of the one who sits on the Throne - Our God Almighty.
Would You Like To Share Some Thoughts On Parenting?
Do you have some tips to help parents who may be facing issues with their children? Share it! It may not be on worship or music but anything relating to parenting children, youth or teenagers.
What Other Visitors Have Said
Click below to see contributions from other visitors to this page...

Parenting Issues

Greetings and Blessings to you all and your families in Jesus Name. I am a practicing Christian, a mum, a nurse and a Sunday School teacher. From the …

Return From Kids Music and Worship To Mastering The Art of Piano Sight Reading



All christian lyrics are the property and copyright of their owners, and
are provided here for educational purposes only.