The Bible, God's Word -
Our Manual for Life.....
... contains the solution for every problem you are facing today. The Bible is an encyclopedia on all subjects you can think of under the sun.
It reveals the author of the Bible, who He is, His character, His nature, What He loves and hates, His plans for the future, His purposes, past history of His dealings with people, guideline for healthy living, works of the demonic forces, glimpses of heaven, reality of hell, moral issues, how to care for the land, science, how to handle relationships, how to handle those who hurt you, how to solve depression and many more.
In the Bible God explains how to worship Him, its value and importance in your daily living. Shows you how to live a purposeful and successful life here on earth and what you have to do to attract His Presence. His Word is seed.
In order to reap the harvest of His promises you have to sow His seed in you. Your worship and intimacy with God is largely dependant on by His revelation of Himself to your heart.
The author of the Bible says that His Word is flawless and eternal.
He explains in Isaiah 55, that just as the rain and snow come down from heaven and do not return to it without watering the earth and making it bud and flourish so that it yields seed for the sower and bread for the eater, so is His Word that goes out from His mouth, it will not return to Him empty but will accomplish what He desires and achieves the purpose for which He sent it.
Is the Bible reliable?
The same God who authored the Book will preserve it. All scripture is God-breathed and is useful for teaching, rebuking, correcting and training in righteousness, so that the man of God may be equipped for every good work (2 Timothy 3:16-17).
St.Peter wrote that we have the word of the prophets made more certain, and you will do well to pay attention to it, as to a light shining in a dark place, until the day dawns and the morning star arises in your hearts. Above all else you must understand that no prophecy of scripture came about by the prophets own interpretation. For prophecy never had its origin in the will of man, but men spoke from God as they were carried along by the Holy Spirit. (2 Peter 1:19-21)
The secret things belong to the Lord our God, but the things revealed belong to us and to our children forever, that we may follow all the Words of the law (Deuteronomy 29:29). His Word must be received, believed and obeyed. You cannot submit to Christ Lordship without submitting to God and His Word, the Bible as the ultimate authority.
Is God's Word powerful?
Yes. God means what He says. What He says goes. His powerful Word - the Bible is sharp as a surgeon's scalpel, cutting through everything, whether doubt or defense, laying us open to listen and obey. Nothing and no one is impervious to God's Word - The Bible. We can't get away from it - no matter what. (Hebrews 4:12-13 -The Message Bible)
In the past God spoke to our ancestors through a line of prophets in different ways. But today He speaks to us through His Son Jesus Christ whom He has appointed as heir of all things and through Him created the universe. Christ is the perfect mirror of God and is the exact representation of God's nature. Unless you take the time and diligently search the Bible you are going to miss out on all that God has in store for you.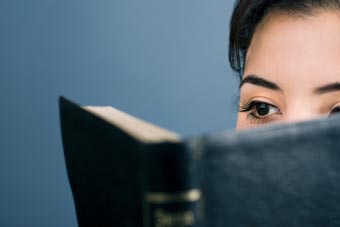 In Luke 6:46-49, Jesus shows us what happens to a person who hears His word and puts it to practice. His words are foundation words, words to build your life on. If you work the words into your life, you are like a smart carpenter who dug deep and laid the foundation of his house on bedrock.
When the river burst its banks and crashed against the house, nothing could shake it, it was built to last. But if you just use His Words in Bible studies and don't work them into your life, you are like a dumb carpenter who built a house but skipped the foundation. When the swollen river came crashing in, it collapsed like a house of cards. It was a total loss.(Taken from The Message Bible)
There are 4 kinds of people in the world who responds to God's Word.
His seed has been scattered everywhere. The parable of the Sower and The Seed in Luke 8:5-15 gives an illustration of this. The Sower or Farmer is God, The Seed is His Word, The Field is The World. His Word has been scattered on different types of soil. Some fell along the path, some fell on the rock, some among thorns and some on good soil.
This is what it means:
Along the path - those who hear the Word, but no sooner do they hear it the devil takes it away from their hearts, so that they may not believe and be saved.
On the rock - are the ones who receive the Word with joy when they hear it but they have no root. They believe for a while , but in times of trouble and difficulties they drop out.
Among thorns - stands for those who hear, but as they go on their way they are choked by life's worries, busy making money and having fun, and they do not mature.
On good soil - stands for those with noble and good heart, who hear the Word, retain it and hold on no matter what, sticking with it until there's a harvest.
For you to ponder - which one are you?


Return from The Bible to All About Worship Home
All christian lyrics are the property and copyright of their owners, and
are provided here for educational purposes only.