What Is The Difference Between Various Gospel Music Genres?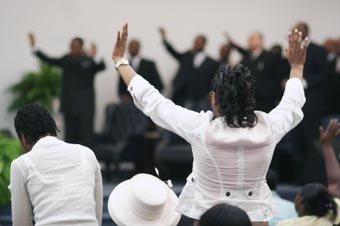 There is NO one way to describe these different gospel music styles. In fact, they can vary by geographic location and even time period.
In the 70's, if someone came along and changed the way people played"traditional" gospel, musicians may have referred to this new style as"contemporary." But fast-forward 30 years and now any style "back-in-the-day" is associated with traditional or "old-school." So again, everything is subjective in gospel music and depends on a number of factors.
....So saying 'contemporary' is not synonymous with playing better. Playing 'urban' isn't necessarily a more advanced branch of contemporary music either. It's all about your preferences.
Traditional Gospel
In traditional gospel music, you hear a lot of triads and seventh chords (especially the dominant seventh chord). You notice a huge reliance on the primary chords of a scale (the "1," "4," and "5" degrees).
You play a lot of major, minor, and diminished triads. To some modern musicians, it is a basic sound. To other musicians of that time, it's the ultimate way. Usually hymnals are played in a traditional style.
Contemporary Gospel
In contemporary gospel song, the musician involves a lot more chord structures like the ninths, elevenths, and thirteenths. You even hear many altered chords (which normally, you wouldn't hear in traditional hymns). The voicings are more unique and the attitude is actually to sound different and get away with it.
Some believe that the contemporary style is taking over. Others believe that it already has. The rest believe that the "urban" sound is where gospel song is headed.
Urban-styled playing is a branch of contemporary gospel music. It combines a mix of rhythm & blues, jazz and gospel. After all, historically, all of these styles have a lot in common.
Urban worship carries a "mood" & "feel" that is highly recognizable. Within a few minutes of someone playing a song, you can tell if they are trying to use "urban" techniques.
With urban and contemporary worship playing, you're using a lot of extended chords like the elevenths and thirteenths but you're not voicing them like you'd see in a textbook. Often times, you'd be surprised how advanced musicians voice chords that have been known for ages by many.
Taking out a note and doubling up on another note --- or altering a tone of a chord by a half step --- all produce subtle mood changes that characterize the urban flavor.
What is and where did Gospel Music originate from ?
It was a popular American Hymnody that emerged about 1870. Initially it was predominantly white style and became prominent in the urban religious revivals led by the evangelist Dwight Moody with the musician Ira Sankey. Its roots were in camp meetings spirituals, sunday school hymns and melodies and harmonies taken from popular music.
The bass voice often echoes the other parts. An example would be lyrics written by William Fischer in 1869 entitled "I love to Tell The Story" and also songs written by Fanny Crosby, often dealing with salvation and conversion.
It's lyrics often call for obedience and response to Christ in order to obtain salvation and also celebrates God's love.
The songs are performed with intense joyful music, with spiritual inspiration accompanied by ornamentation with solo vocal lines.
Black Gospel is an American religious melody associated with Pentecostal churches. It developed out of the combination of the earlier hymns, black performance styles and melody blended with elements of jazz and spirituals and is used to spread the Gospel of Jesus Christ.
It partly evolved from the Christian West African slaves in the American South who sang on plantations. It first came out of African-American churches in the 1930's.
White Gospel cultural origins began in the late 19th century by white American evangelicals. Popularized through secular artists such as Elvis Presley.
It is often called Country or Southern Gospel to distinguish it from Black Gospel. Early Country Gospel artists, such as The Carter Family gain popularity through their recordings and radio performances in the 1920's and 1930's and others such as Homer Rodeheaver, George Beverly Shea or Cliff Barrows, became well-known through their association with travelling evangelist Billy Graham.
In recent years, Southern Gospel Music has experienced a resurgence of popularity due to the success of Bill and Gloria Gaither's "Homecoming"series of videos, featuring many of the legends of the popular band of the SGM such as the Hoppers, Ernie Haase, Signature Sound and The Gaither Vocal Band.
The Gospel Music Association consists of gospel artists who maintain all aspects of gospel music and has a physical Hall of Fame and Museum situated in the Dollywood theme park at Pigeon Forge, TN - USA.
Return From What Is The Difference Between Various Gospel Music Genres? To Mastering The Art of Piano Accompaniment


Return To Home

All christian lyrics are the property and copyright of their owners, and
are provided here for educational purposes only.