Wedding Hymns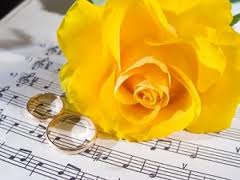 Wedding hymns set a background for one of the most intimate occasions in the lives of two people who are promising a lifetime commitment to each other. Wrapping this occasion, in devout and beautiful music provides a positive first step on the newlywed's journey through life.

Be Thou My Vision
In the 8th century, Irish poet Dallan Forgaill wrote a poem " Be Thou My Vision" to celebrate St Patrick's unswerving devotion to the Lord. The poem was set to the music of an Old Irish folksong called "Slane". Originally written in the language of old Ireland, Mary Byrne translated the text into English in 1905.

This hymn keeps the Lord as the foundation of the marriage as the first verse prays:

      Be Thou my Vision, O Lord of my heart;
      Naught be all else to me, save that Thou art.
      Thou my best Thought, by day or by night,
      Waking or sleeping, Thy presence my light.

In 1909, Leopold Dix published the completed work, both poem and music in the Irish "Church Hymnal.

look inside
World's Greatest Love Songs (57 of the Most Popular Love Songs Ever Written). Arranged by Dan Fox. For easy solo piano. Piano Collection; Piano Supplemental; Sing-Along. World's Greatest Series. Love and Pop. Easy Piano. Songbook. Easy piano notation, chord names, fingerings, introductory text and lyrics (does not include words to the songs). 144 pages. Published by Alfred Music Publishing (AP.26325)

(1) ...more info
Guide Me, O Thou Great Redeemer
Recently attention was drawn to "Guide Me, O Thou Great Redeemer," as the hymn sung at the wedding of Katherine Middleton and Prince William. The song, sometimes titled " Guide Me, O Thou Great Redeemer" calls for direction and comfort:

    Guide me, O thou great Redeemer,
    Pilgrim through this barren land;
    I am weak, but thou art mighty;
    Hold me with thy powerful hand:

In 1745, William Williams, a Methodist preacher wrote the hymn in Welch and in 1771, Peter Williams translated the hymn to English.

Love Divine, All Loves Excelling
In 1747, Charles Wesley, the sweet bard of Methodism, wrote the words of "Love Divine, All Loves Excelling" which has been set to the tune of various songs such as "Blaenwern", "Beecher" and "Holy Manna." This song was also part of the Katherine Middleton and Prince William wedding and the opening lyrics call for the Savior's love to his people on earth:
    Love divine, all loves excelling,
    Joy of heaven, to earth come down,
    Fix in us thy humble dwelling,
    All thy faithful mercies crown.
     
Published in 1747 in "Hymns for Those That Seek, and Those That Have, Redemption in the Blood of Christ," this hymn has been set to various tunes. As various denominations use the hymn in their worship of the Lord, they have made some minor word changes to the original text.

Lead Us, Heavenly Father, Lead Us
When James Edmeston wrote " Lead Us, Heavenly Father, Lead Us," his dedication was to "the children of the London Orphanage Asylum." It fits as one of the wedding hymns, as it asks the Lord for guidance, care and safekeeping as seen in the opening:

    Lead us, heavenly Father, lead us
    O'er the world's tempestuous sea;
    Guard us, guide us, keep us, feed us,
    For we have no help but Thee;
    Yet possessing every blessing
    If our God our Father be.

The hymn appeared in Edmeston's Sacred Lyrics in 1821.

Where Charity and Love Prevail
Like many recommended wedding hymns, "Where Charity and Love Prevail" is an English hymn version of a Latin hymn from the 9th-century. The lyrics are based on the direction of Jesus to love each other as he has loved us. Omar Westendorf translated the hymn in 1961 and it opens with:

    Where charity and love prevail,
    There God is ever found;
    Brought here together by Christ's love,
    By love are we thus bound.

This hymn is another example how the hymns, even wedding hymns, are timeless with the message of the 9th century is as valid today as it was so many years or centuries ago.

With hundreds of wedding hymns from which to choose, you might find it difficult to narrow down the selection for the ceremony. You can, however, include hymns at the reception to keep the Lord close to one of the most important commitments that you make in your life.

Return from Wedding Hymns to Wedding Songs

All christian lyrics are the property and copyright of their owners, and
are provided here for educational purposes only.