Praise the Lord Anyhow
"Praise the Lord anyhow." If you've ever been in the midst of a trial and had someone tell you to praise the Lord anyway…admit it, you wanted to punch 'em. However, they have a point. The Bible says, "in everything give Him thanks."
1Thes5:18 - give thanks in all circumstances; for this is God's will for you in Christ Jesus.

"In all circumstances" we are to give thanks. That doesn't mean we are praising God for the problems, but in the midst of those problems we are still to thank and praise Him.

The Sacrifice of Praise
Hebrews 13:15 Through Jesus, therefore, let us continually offer to God a sacrifice of praise—the fruit of lips that openly profess his name.

In order to praise the Lord anyhow, you are going to find that that means giving a sacrifice of praise to the Lord. A sacrifice is to give up something that you really don't want to give. A sacrifice is painful. A sacrifice takes something from you.

However, when in the midst of your pain and suffering you can say, "I praise you, Lord. I worship You. I thank You that I am not alone, but You are with me", that's when you will begin to see breakthroughs. You'll see answers come. You'll see healings.

Why?

Because God inhabits the praises of His people.

God Inhabits Praise
Psa 22:3 Yet you are enthroned as the Holy One; you are the one Israel praises (NIV)

However, in the KJV it says: But thou art holy, O thou that inhabits the praises of Israel (His people).

The word "inhabits" means to sit down, to dwell, to remain, and I guess "sit down" could mean "enthroned".

So if, in the midst of whatever turmoil or trouble is in our life at any specific time, we praise the Lord anyhow, we will suddenly find that God has moved into the situation.

Praise is a Matter of Will
How do you praise the Lord anyhow? Well, it's a matter of will. It's decision you make, that despite what you feel you are going to praise the Lord anyhow, anyway, in any circumstance.

Twenty-eight times, from Genesis through Romans, we find the phrase "I will praise".

Exodus 15:2 The Lord is my strength and my defense; he has become my salvation. He is my God, and I will praise him, my father's God, and I will exalt him.

Psalm 18:49 Therefore I will praise you, Lord, among the nations; I will sing the praises of your name.

Psalm 54:6 I will sacrifice a freewill offering to you; I will praise your name, Lord, for it is good.

Psalm 145:2 Every day I will praise you and extol your name for ever and ever.

If you want to triumph over the circumstances, instead of being under the circumstance, you must determine in your mind and heart to praise the Lord anyhow. Get your will involved, and begin to praise Him.

Sometimes that's hard when you're dealing with depression, disease, divorce or death, but if you will begin to praise the Lord, you will find He moves in.

Praise shouldn't just be something you do in the good times, or when you've had success. Praising the Lord for what He's already done, is good. But if you want to be an overcomer, then begin to praise Him in the darkest night.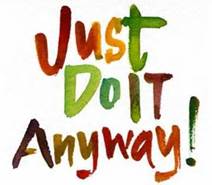 Psalm 18:46 The Lord lives! Praise be to my Rock! Exalted be God my Savior!

Psalm 28:7 The Lord is my strength and my shield; my heart trusts in him, and he helps me. My heart leaps for joy, and with my song I praise him.

Psalm 31:21 Praise be to the Lord, for he showed me the wonders of his love when I was in a city under siege.

Psalm 43:5 Why, my soul, are you downcast? Why so disturbed within me? Put your hope in God, for I will yet praise him, my Savior and my God.

Psalm 59:17 You are my strength, I sing praise to you; you, God, are my fortress, my God on whom I can rely.

Make praising the Lord part of your daily life, and learn to praise Him in everything.

Return From Praise the Lord Anyhow to Praise
All christian lyrics are the property and copyright of their owners, and
are provided here for educational purposes only.