Great is Thy Faithfulness Lyrics

The Great is Thy Faithfulness lyrics began as a poem written by Thomas O. Chisholm in 1923; however, it was William M. Runyan who composed the music. The song, published by Hope Publishing Company, was popularized by the Moody Bible Institute and performed regularly at Billy Graham Crusades. The song became a standard in hymnbooks for the next 50 years, but most recently it was taken out of old hymnals and performed by Lincoln Brewster.
| | |
| --- | --- |
| look inside | Ivory Exaltation Arrangements for the Advanced Pianist. Composed by Marilynn Ham. Sacred, Christmas, General. Lillenas Publishing Company #9780834190795. Published by Lillenas Publishing Company (LO.9780834190795). |
| | |
| --- | --- |
| look inside | Gospel's Greatest Composed by Various. Hal Leonard Fake Books. Gospel and Worship. Fake book. With vocal melody, lyrics, chord names and guitar chord chart. 295 pages. Published by Hal Leonard (HL.240136). |
| | |
| --- | --- |
| look inside | Wonderful Words Of Life Composed by William H. Goddard. This edition: Complete, Spiral-bound. Collection. Large Print Hymnbooks. General Worship, Sacred. Collection. Hope Publishing Company #46. Published by Hope Publishing Company (HP.46). |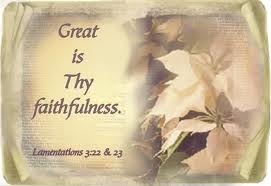 Great Is Thy Faithfulness
(Key of E flat)

Great is Thy faithfulness
O God my Father
There is no shadow of
Turning with Thee
Thou changest not
Thy compassions they fail not
As Thou hast been Thou forever will be

Great is Thy faithfulness
Great is Thy faithfulness
Morning by morning new mercies I see
All I have needed They hand hath provided
Great is Thy faithfulness Lord unto me

Summer and winter, and
Springtime and harvest
Sun, moon, and stars
In their courses above
Join with all nature
In manifold witness
To Thy great faithfulness
Mercy and Love

Pardon for sin
And a peace that endureth
Thine own dear presence
To cheer and to guide
Strength for today
And bright hope for tomorrow
Blessings all mine
With ten thousand beside


Return From Great Is Thy Faithfulness Lyrics to Christian Music Lyrics

All christian lyrics are the property and copyright of their owners, and
are provided here for educational purposes only.