Above All Lyrics

Above All Lyrics was composed by Lenny LeBlanc. He is an American singer-songwriter. Sung by Michael W Smith in his album titled "Worship".
The song is about our Lord Jesus Christ who is above all thrones, principalites and powers. His goal was to reconcile us to God the Father. You and I was on His mind when he suffered at the Garden of Gethsamane. He humbled himself, took the form of a man and laid his life down for us. All because of His LOVE for us.
Above All
(Key of G)

Above all kingdoms, above all thrones
Above all wonders the world has ever known
Above all wealth and treasures of the earth
There's no way to measure what you're worth

Crucified, laid behind the stone
You lived to die, rejected and alone
Like a rose, trampled on the ground
You took the fall and thought of me, above all.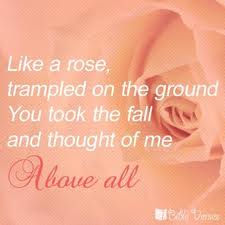 Return From Above All to Christian Music Lyrics

Mastering The Art of Piano Sight Reading
All christian lyrics are the property and copyright of their owners, and
are provided here for educational purposes only.